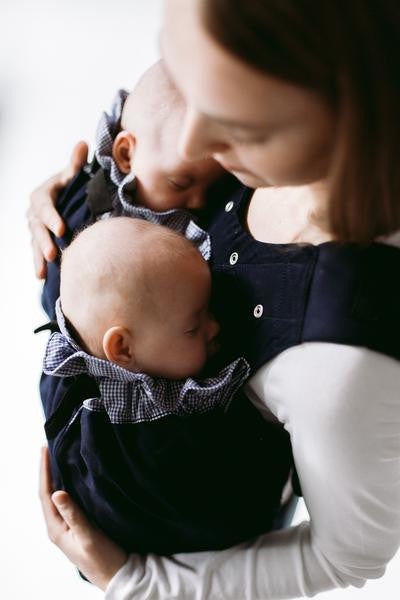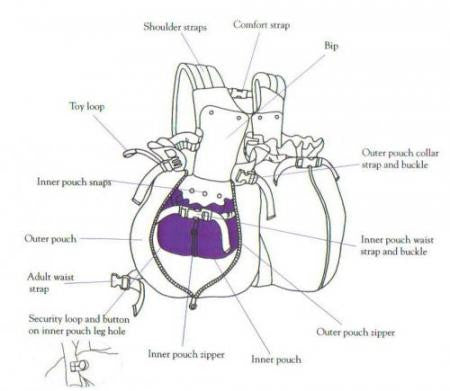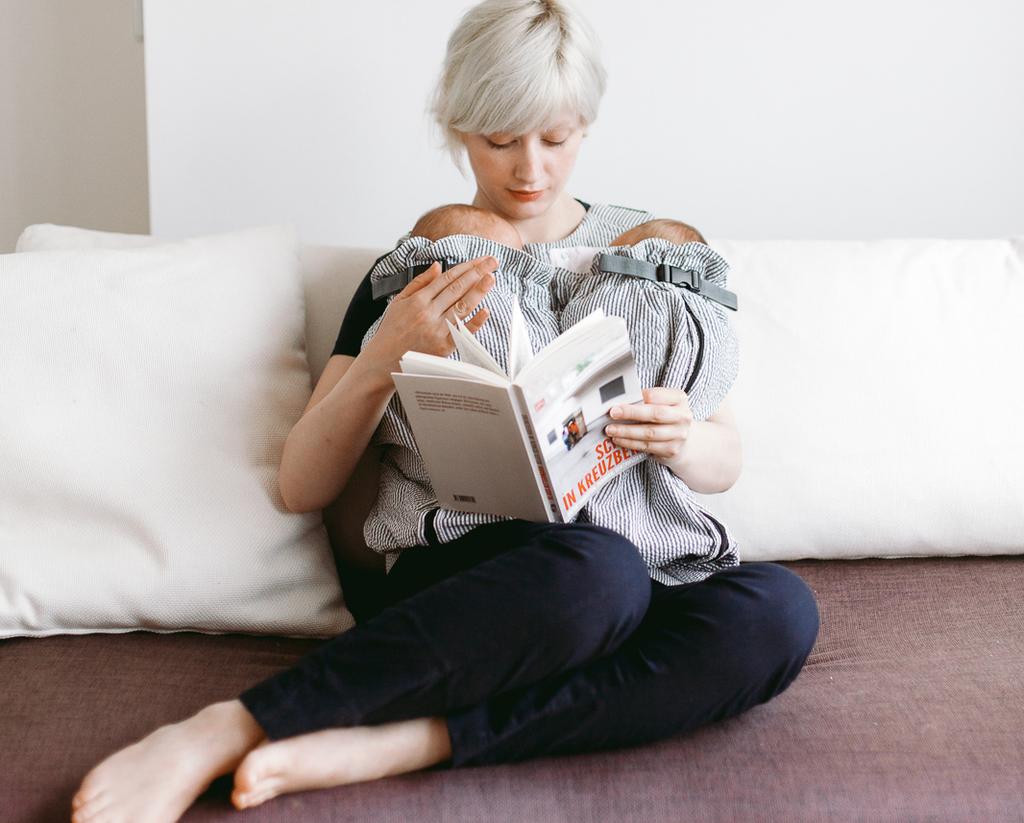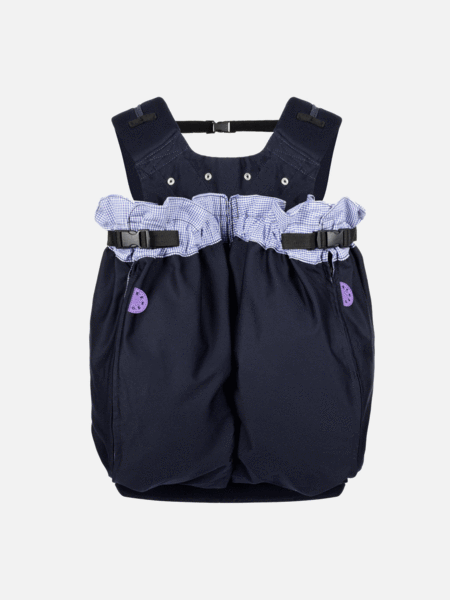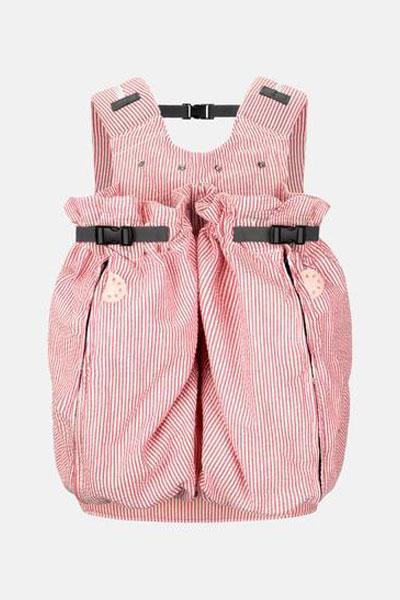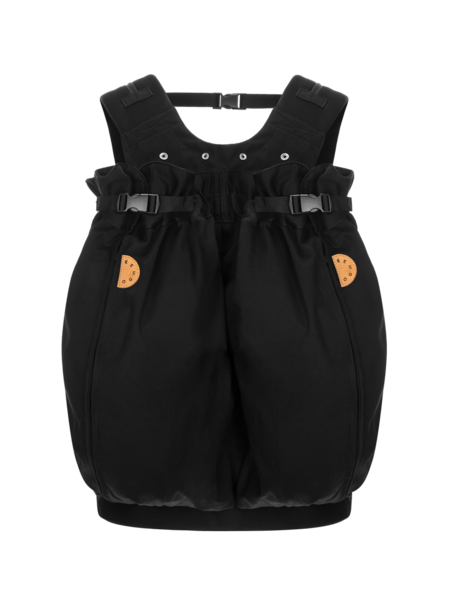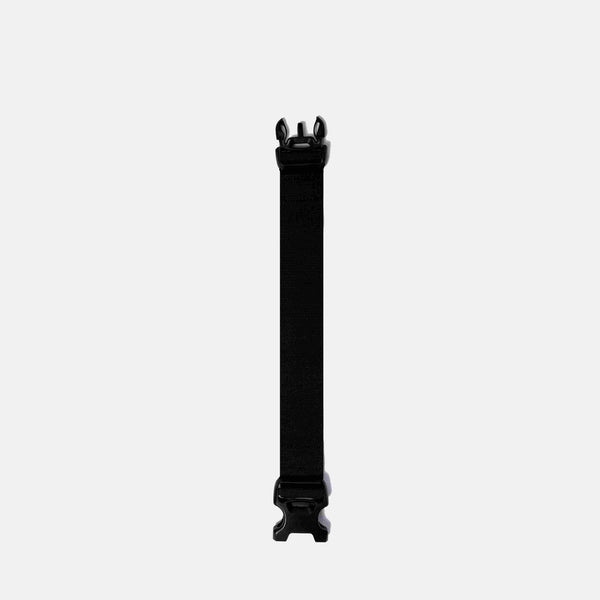 The Weego TWIN is the first baby carrier for twins. It is intended for use particularly in the first few months and gives you the possibility to carry both babies together on your front. This not only enables you to give both babies a lot of closeness and physical contact but also facilitates many situations (shopping, going for walks) without having to take a big twin-stroller along. 
The Weego Twin can be used from birth on - starting at a weight of 4 lbs (1.800g) each. This allows the use of the Weego TWIN also with premature babies. Depending on the weight and size of the babies, it can be used until the twins are approximately 5 - 6 months old, pr a combined weight of 15kg. 

Like the original Weego, the Weego TWIN comes with the special double pouch system which ensures the orthopedically correct posture of your babies. It easily adjusts for growing babies and for fitting different people carrying them. The Twin Weego will fit a waste circumference of approximately 105 cm (41").

The Weego TWIN is made of  light cotton twill with blue and green plaid lining. It is machine washable at 30°C (92°F) and can be tumble dried at low temperature.

The Weego XL or plus size allows for more flexibility in sizes, and is ideal in cases where one baby-wearer may be on the larger side, and the other is not (or even petite). The only difference is that all adjustable straps will be able to extend further when needed.
There are many baby carriers. However, unfortunately many do not meet even the basic requirements for a good baby carrier. In particular, the baby's legs must not hang down straight but should be bent at an angle of at least 90° ("frog-like-position"). The baby's back should be supported enough to bring the baby close to the person carrying it. The baby's head should be supported properly and fully. The smaller the baby, the more important the compliance with these criteria.

The especially designed double pouch construction of the Weego Baby Carrier guarantees that your baby is always secure, comfortable and cosy:
The inner pouch supports your baby's back
The outer pouch supports your baby's head and neck and protects your baby
The outer pouch, in connection with the shaped inner pouch, always ensures the "frog-like-position"
The Weego easily adjusts for growing baby and to fit different people carrying the baby.
Each Weego is machine washable at 30°C and can be tumble dried at low temperature. It comes with three cotton bibs that can be washed separately.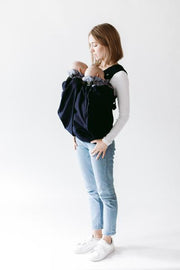 Twin Weego