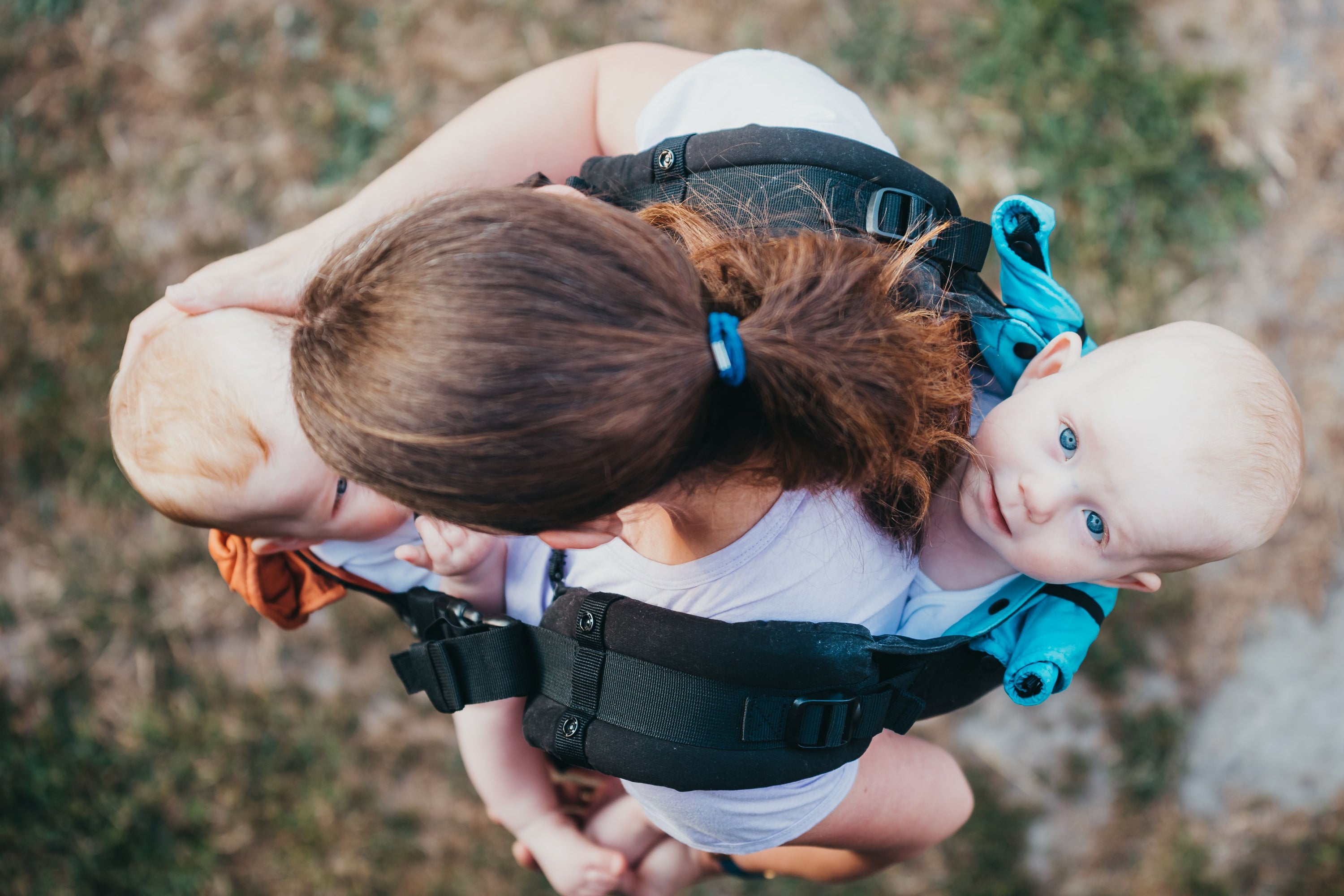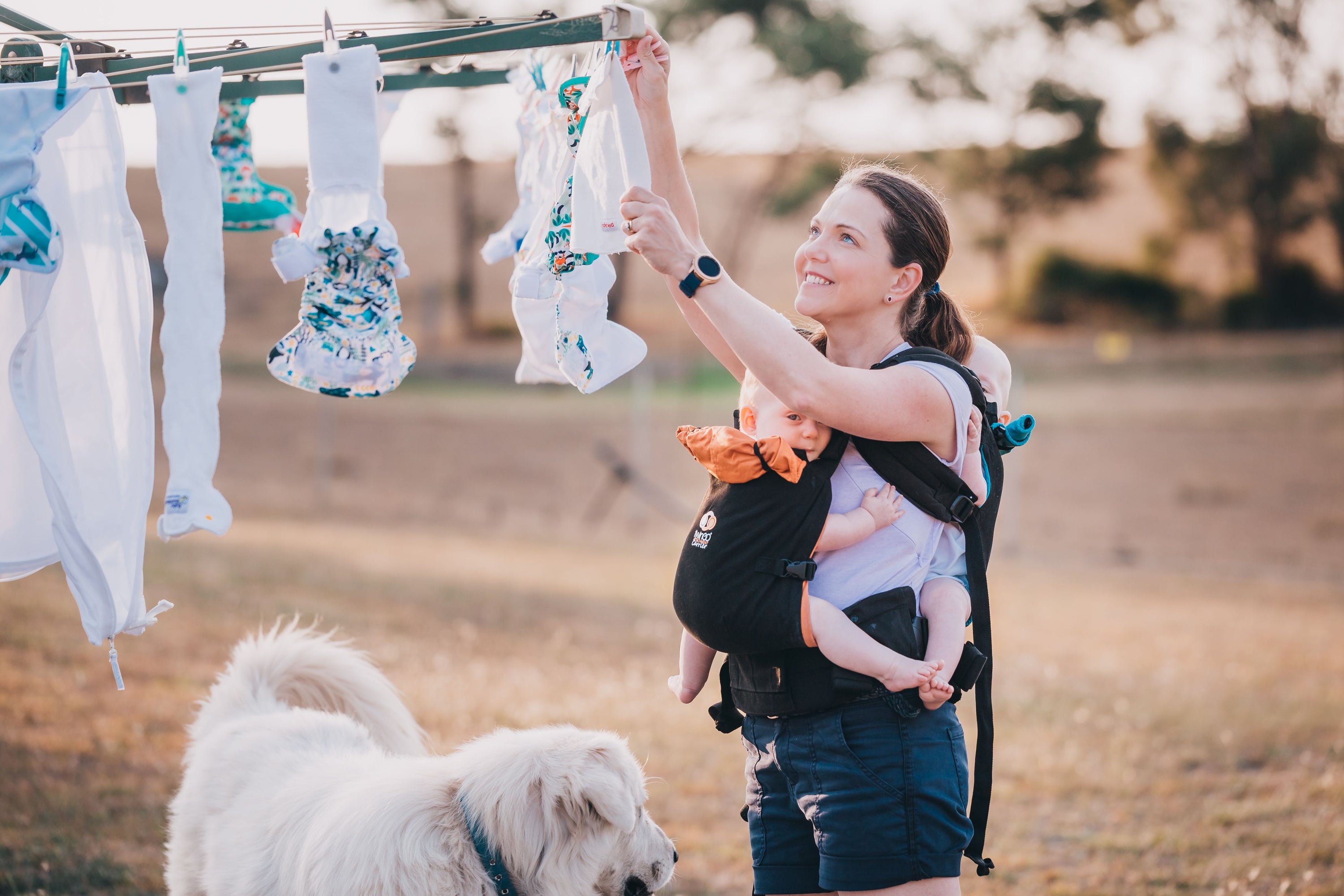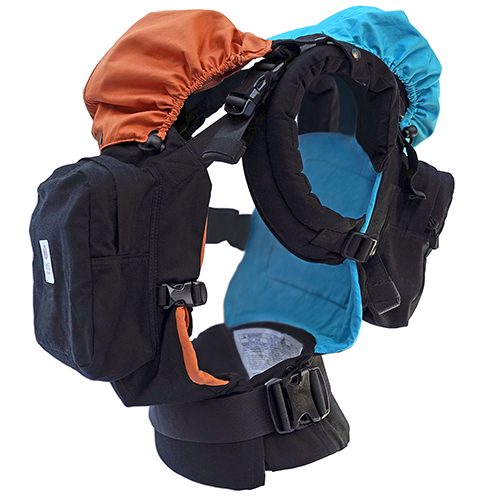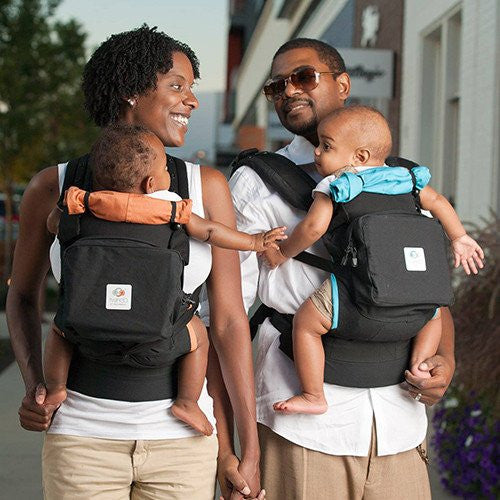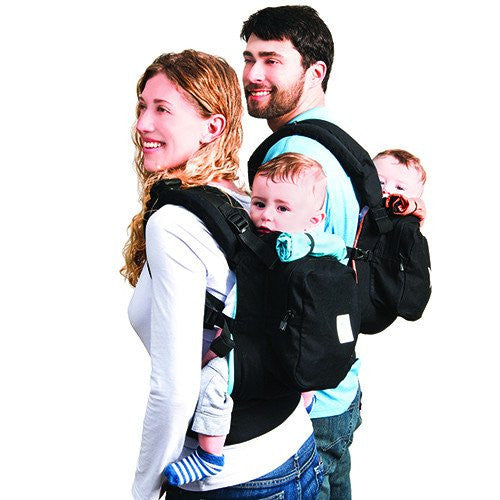 Do you have twins or children born close-in-age? Chances are both will have needs to be cuddled at the same time.
The TwinGo Original is the first dual-child carrier that allows you to carry two children simultaneously in an ergonomic front/back position (patented). In addition, our ingenious design allows you to divide the TwinGo Original into two single-child carriers so two adults can independently carry one child each (Mum can carry one and Dad can carry the other). The TwinGo Original also provides you two generously-sized pockets that help you get out without the bulk of a diaper bag! The pockets are just the right size to fit your diapering and on-the-go essentials but not too big to impact the comfort of the child or the balance of the adult. The pockets also serve as a clever reversible storage compartment! Watch this video!
What you get with this bundle:
Why you need this bundle:
Economical: This affordable system is less expensive and more functional than purchasing two separate carriers.
Versatile: Can be used by one parent as tandem twin carrier or used by both as single carrier. It also works for both twins and children of varied size.
Comfortable: An ergonomic design with a 100% cotton exterior provides comfort for both you and your babies.
Adjustable: The waist and shoulder straps allow for a custom fit for adults 4'11" to 6'5." Can accommodate children between 10lbs-45lbs (4.5kg - 20kg), and as small as 7lbs (3.12kg) with the TwinGo Infant Insert.
Compact: The entire carrier collapses into its own pocket, making this perfect for travel.
More information:
Base Carrier: This carrier has a blue or green interior and a permanent set of shoulder straps. When in tandem-mode, this carrier is worn on the adult's back. When in single-child mode, this carrier can be worn on the adult's front or back.

Attachment Carrier: This carrier has an orange or yellow interior and a set of removable shoulder straps, included with this bundle. When in tandem-mode, the shoulder straps are removed, the carrier is worn on the adult's front and attached to the shoulder straps of the Base Carrier. When in single-child mode, the shoulder straps are added to the carrier and worn on the adult's front, back or hip.
Sleep Hood: The blue/green and orange/yellow sleep hoods included with this bundle have three purposes:
To support a sleeping baby's head in an upright ergonomic position (without a hood, the baby's head will flop backward in an uncomfortable position),

To provide shade from the sun or privacy while breastfeeding, and

To provide 2.5" of added head/neck support to a newborn when rolled and tucked behind the baby's neck.
TwinGo Carrier Infant Insert is designed to use in the TwinGo Carrier for babies with a minimum weight of 3.2kg until they fit into the carrier without the need for the insert at a minimum weight of 4.5kg.
New! The TwinGo Infant Insert is an innovative seat-like piece to support healthy hip and spine positioning in the front carry position. For added neck and head support, either roll the Sleep Hood and use extension straps to support the baby's head or use the TwinGo Panel Extender.

When to use: Use the Infant Insert to support newborns starting at 3.2 kg and up to the developmental stage when your baby's legs can naturally spread to straddle the panel of the TwinGo Carrier.

How to use: The Infant Insert attaches directly to the waist belt of the TwinGo Carrier before placing your baby in the carrier.

There is no added bulk so this design allows your hands to be in direct contact with your baby at all times during the loading and unloading process. The minimalistic sleek design does not affect adequate airflow in the carrier so your baby will not overheat.

100% black cotton fabric, Machine washable/ Line dry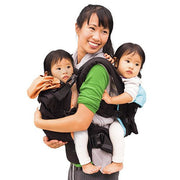 TwinGo Carrier